Housed in a permanent marquee set in the lush outdoors, fully air-conditioned and pillar-less, Re!Joice Grand Ballroom is perfect for indoor events with up to 600 guests. The ballroom can also accommodate events of up to a thousand guests with the combination of both the indoor and outdoor areas. The ballroom offers guest an ideal mix of indoor grandeur and outdoor serenity.
WhatsApp (65) 87575727 / (65) 90044397 for your events requirement!
Specifications
Room Area: 560 sqm / 6028 sqft
Height: 3.6m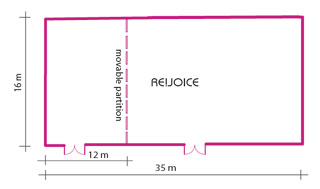 Re!Union is the perfect versatile function room combined with an al-fresco space overlooking lush greenery and allows it to be utilized for many events. The room is perfect for cozy gatherings, parties, meetings or wedding banquets of up to 8 banquet tables comfortably.
Specifications
Room Area: 114 sqm / 1232 sqft
Height: 2.3m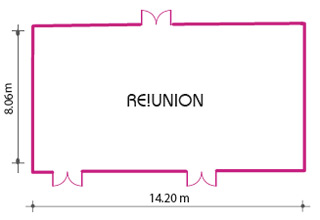 Re!Fine is an exclusive lounge that is ideal for intimate parties, dinners, corporate luncheons or meetings. With changing mood lights, Re!Fine can be transformed into a cocktail lounge or a cozy venue for events from 2 to 30 guests.
Re!Party Alfresco Lounge is the perfect venue to host informal cocktail parties, birthday parties, baby shower and networking sessions for up to 100 guests.
| Type | Setup | Pax |
| --- | --- | --- |
| Re!Joice Grand Ballroom | Buffet | 350 |
| | Banquet | 450 |
| | Theatre | 600 |
| Re!Joice 1 | Buffet | 200 |
| | Banquet | 270 |
| | Theatre | 350 |
| | Classroom | 180 |
| Re!Joice 2 | Buffet | 90 |
| | Banquet | 110 |
| | Theatre | 200 |
| | Classroom | 54 |
| Re!Union Function Room | Buffet | 80 |
| | Banquet | 80 |
| | Theatre | 120 |
| | Boardroom | 50 |
| | Classroom | 60 |
| | U-Shaped | 42 |
| Re!Fine Private Lounge | Buffet | 18 |
| | Banquet | 10 |
| | Boardroom | 13 |
| | Classroom | 15 |
| | Theatre | 25 |
| | U-Shaped | 10 |
175A Chin Swee Road, S(169879) | +65 6827 8288